because it's greeen, I'm lactose intolerant, and I'm rarely at starbucks
No seriously, that IS why I've never gone for it. But, since the newest basic girl trend is a matcha from Starbucks, I decided to do a little research on what it is.
I actually already knew that matcha is a concentrated, powdered form of green tea because my parents raved about it from their trips to Japan. In Japan, they serve matcha with the tinniest little spoons and a cup of hot water. My dad said the first time he tried it he accidentally dumped a heaping teaspoon and had to ask for another cup it was so strong!
Anyways, let's start with the unbelievable benefits of matcha:
Prevents cancer
Boosts metabolism
Protects the liver to help your hangover
Anti-ager
Lowers bad cholesterol (LDL) and stabilizes blood sugar
Detoxifies the body
Promotes concentration and clears the mind with the L-theanine amino acid
However! The Starbucks matcha is NOT pure matcha. The drink itself is originally blended with milk, ice, and is "lightly" sweetened (even if they tell you they didn't add anything).
Ohhh wait but you're the one who just get the scoops of matcha and pays $0.87? Well then you're in the clear right? Wrong! Look at the matcha powder package below that Starbucks uses:
The ingredients list says: "sugar and green tea powder". Ingredients are always listed is order of volume (the most being at the front of the list). Since sugar is first, that means at least 51% of the powder is sugar. With each scoop containing 5g of sugar and only 1g of "other" carbs, it makes me wonder how much of the powder is actually matcha?
Ultimately, if you want a matcha green tea from Starbucks- go for it! But if you're only doing it because you think it's a healthy choice, think again.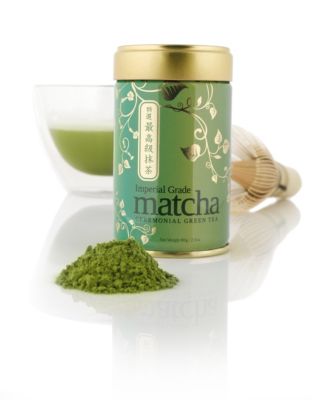 Looking for pure matcha? Check out the Matcha Japanese Green Tea from Teavana (which ironically Starbucks recently acquired…)